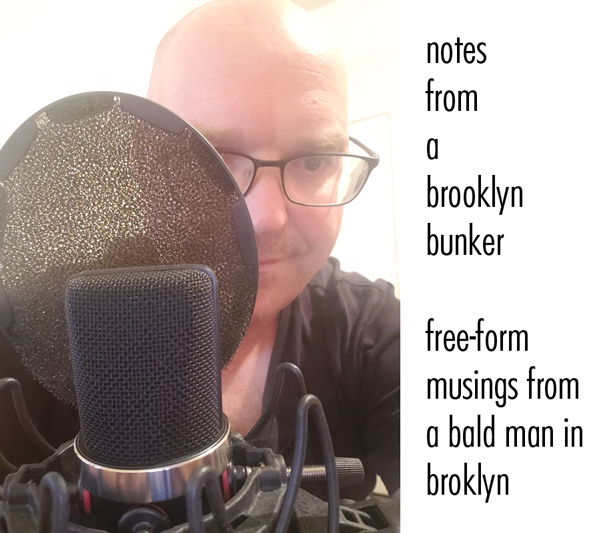 Notes from a Brooklyn Bunker is an ephemeral podcast that Edward Champion made from April to September 2020 during the beginning of the pandemic. It is a free-from show that consists of Mr. Champion talking extemporaneously without any preconceived plan. In December 2021, Notes was revived as a weekly podcast for onlychatter.com members. Season 1 Members have full access to the archives of the original 34 episodes, as well as subsequent installments in this series through February 28, 2022. To listen to these shows, become a Season 1 member today!
All episodes below require membership. Only $7 for access through February 28, 2022. The price of a pint!
Also, as an additional bonus, each new Notes episode will be recorded on a live TikTok stream. So you can be a part of the production process! Be sure to follow Mr. Champion on TikTok!
40. Information Sickness: In 1981, Ted Mooney introduced the concept of "information sickness" in his novel Easy Travel to Other Planets. He imagined a phenomenon whereby people take in too much information, collapsed from the overload, and felt an overwhelming desire to touch everything because their senses had been dulled. Our Correspondent reexamines Mooney's idea within the context of living in 2022. What forms of supplemental sickness has the two-party system practiced and disseminated within millions of American? And how is this information sickness damaging countless minds and affecting millions of lives? (January 17, 2022, 15 minutes, 42 seconds)
39. The Neurotic Chronicles: In 2008, your host Edward Champion made his first attempt at an "audio drama." Two wild episodes called The Neurotic Chronicles that were greatly inspired by Joe Frank and a lot of stylized character-based monologues that have increasingly gone out of fashion. This old project is presented, as is, exclusively to Onlychatter members to show where I was fourteen years ago and to demonstrate that all of us have to start somewhere! (January 17, 2022, 11 minutes, 42 seconds)
38. What Will It Take? As thousands of motorists are trapped for nearly a day in a snowstorm on I-95 — without food, water, gas, blankets, or snow plows and with Governor Ralph Northam and the Virginia Department of Transportation doing absolutely zero to rescue them — Our Correspondent asks the vital question, "What will it take?" What will it take for the American people to put their foot down against any politician — Republican or Democrat — who cannot provide a basic baseline of care, empathy, and welfare for the vox populi? What happened to our nation? And can we get these basic humanist values back? (January 4, 2022, 20 minutes and 24 seconds)
37. Pattern Game: Our Correspondent considers "the contretemps of predictability" after a bad breakup and examines how all of us are ensnared in relation to dating apps, algorithms, and the hunger for emotional intimacy. (December 16, 2021, 12 minutes and 46 seconds)
36. Don We Now Our Macy's Apparel: Our Correspondent bemoans the contradictions and hypocrisies of Christmas, laments the many older people who are left alone during the holidays, and reexamines A Christmas Carol and It's a Wonderful Life from a different contextual prism. (December 14, 2021, 14 minutes and 15 seconds)
35. Return of the Bald Man: On the occasion of onlychatter.com's launch, Our Correspondent discusses the rapid rise of selfishness during the pandemic, whether or not selfishness can be entirely altruistic, narcissism, psychic trauma, cranberry sauce, the impulse to help people, and the problems with American exceptionalism. (December 10, 2021, 12 minutes and 32 seconds)
34. The End: The end of the original run of the show. Recalling a moment I was disinvited from a party because I offered to play guitar, the increased cultural undercurrent of bullying against the vulnerable, sensationalistic headlines, and being true to yourself. (September 17, 2020, 24 minutes and 55 seconds)
33. Footloose and Fancy-Free: The Nebulous War on Fun: Neoliberal platitudes, the borefest of the 2020 Democratic National Convention, how the Squad has been elided from the DNC, Andrew Cuomo's needless war on the House of Yes, why many Democrats are acting like John Lithgow's character in Footloose, and why fun is the way to get through to people. (August 21, 2020, 19 minutes and 4 seconds)
32. Kevin Fucking Costner Knew: How Kevin Costner's films were unanticipatedly prescient about life in the 2020s. (August 21, 2020, 10 minutes and 45 seconds)
31. If Only: Recalling a woman I dated five years ago and how the act of a third party prevented her from going the distance. (August 18, 2020, 7 minutes and 12 seconds)
30. Cautious Optimism: What is the right type of optimism to practice without being a Pollyanna? (August 13, 2020, 7 minutes and 55 seconds)
29. Banned from Hinge: On being banned from Hinge for no reason and the unfair advantages that tech companies hold over our regular lives. (August 13, 2020, 14 minutes and 32 seconds)
28. Schools, Ego, and the American Hellscape: Chronicling the ego war between Mayor Bill de Blasio and Governor Andrew Cuomo, how to open up schools, and solutions for educational environments during the pandemic. (August 9, 2020, 18 minutes and 26 seconds)
27. Hitting the Other Side of the Hill: On celebrating a birthday and contemplating the indisputable reality of middle age. (August 4, 2020, 12 minutes and 5 seconds)
26. The Right Kind of Happiness: On Mike Leigh's Happy Go Lucky, finding the right kind of happiness, optimism, and positivism. (August 4, 2020, 11 minutes and 29 seconds)
25. The Dark Plunge Forward: Thoughts on brutality and violence and the exploitation of people who need to pay their rent. (July 22, 2020, 11 minutes and 33 seconds)
24. Portland and the American Living Room Problem: What teachers experience during the pandemic and why now is the right time to stand up for workers. (July 17, 2020, 9 minutes and 55 seconds)
23. The Lost Art of Understanding: Two stories about women, one in which Our Correspondent was the idiot and one in which the woman was the idiot. (July 16, 2020, 10 minutes and 10 seconds)
22. Cancel Culture and the Absence of Rehabilitation: An expose on bullies, the absence of rehabilitation, the differing notions of justice, criminologist John Braithwaite and reintegrative shaming, and recidivism. (July 11, 2020, 15 minutes and 54 seconds)
21: Ships Passing: Describing a whirlwind one week romance, the collective fear of belonging, and the importance of emotional intimacy. (July 6, 2020, 11 minutes and 22 seconds)
20. High-End Catfishing: On being single during the pandemic, the legacy of Thomas Wolfe, the problems with sincerity, and a run-in with a fake online dating profile. (July 6, 2020, 16 minutes and 28 seconds)
19. The Grim Reaper of Technology: Our Correspondent ponders his new superpower, recently acquired in July 2020, of being able to destroy technology with a single touch. (July 3, 2020, 7 minutes and 26 seconds)
18. Municipal Internet: Our Correspondent examines the needlessly fragile nature of New York City Internet service, pointing to the rampant evil that Optimum and Spectrum has been allowed to get away with, and calling for a MUD-style municipal Internet to provide for the people. (July 2, 2020, 10 minutes and 23 seconds)
17. The Hideous Abuse of the Literary World: Our Correspondent talks about his former days as a literary journalist, what women told him, how the publishing world goes after people who know information, and the recent allegations against Warren Ellis and others. (July 1, 2020, 17 minutes and 14 seconds)
16. Against Conspiracy Theories: A conspiracy theorist by the name of Robert Jones, Jr. — going by the handle Son of Baldwin — put out an unfounded fireworks theory that people have accepted without question. Our Correspondent argues why conspiracy theories — which are the work of cranks, not intellectuals — are wrong and dangerous and should be denounced. (June 21, 2020, 13 minutes and 34 seconds)
15. The Truth May Be Stretched Thin: Our Correspondent has found his line in the sand on the important question of whether statues should be removed. A statue of Miguel de Cervantes, himself a slave for five years, was defaced by lliterate and ignorant thugs in Golden Gate Park. Our Correspondent points to the necessary rectification of statues, why considering history isn't an act of nostalgia, and proposes some appropriate punishments to the vandals who defaced Cervantes. (June 20, 2020, 12 minutes and 22 seconds)
14. The Bouncers of Brooklyn: Our Correspondent, galvanized by the recent arrival of a pair of shorts with "extreme motion," comments upon the terrible Abraham Knofler video, why the NYPD can't be trusted, and the duty of all Brooklynites to serve as neighborhood bouncers. (June 18, 2020, 10 minutes and 16 seconds)
13. The Paradox of Fame: "Fame puts you there where thing are hollow," sang David Bowie. Well, the paradox of fame is even deadlier now than it was in 1975. In our latest episode, our correspondent discusses Flatbush fireworks, oppressive fans, and the need for distinct voices. (June 18, 2020, 18 minutes and 25 seconds)
12. Unborn Children: Two incidents. One in my early thirties. The other, last week, at the age of 45. Pain. Guilt. Loss. The universe holding up a mirror to all the beauty you believe in and having a callous and merciless laugh. (June 12, 2020, 26 minutes and 27 seconds)
11. New York City: Why Would You Leave? People are fleeing New York City, afraid of the pandemic and the looting and the possibility of surviving. Our correspondent offers a passionate argument for why this city rewards loyalty. (June 10, 2020, 10 minutes and 1 second)
10. On Blackface and Erasing the Past: Our correspondent discusses how he found out about Al Jolson in a book, the circumstances that caused him to forgive and befriend his childhood bully, the ugliness of the n-word, on what happens when you live a life without explicit cues, the erasure of racist culture, the Bon Appetit scandal, HBO Max scrubbing material from its archives, Gone with the Wind as an overrated movie, growing up without disclaimers, how to form a moral compass, having the room to think, the removal of statues, and denying the history of ugliness. (June 10, 2020, 10 minutes and 14 seconds)
9. Fuck the Police (Mostly): As American protests escalate into heightened riots, our correspondent shares his thoughts on the real source of what's going on, sharing some of the reprehensible conduct he observed from the NYPD on May 30, 2020 in the streets of Brooklyn. (May 31, 2020, 9 minutes and 2 seconds)
8. Big White Lies: You've all seen the video of George Floyd's murder. It is a snuff film, an abomination, an unacceptable watermark for the lies of white culture and the harm it does to America. This show ties all the lies together and calls bullshit on this cancer. The lies of police abuse, both with George Floyd and in picking fights with peaceful protesters. The lies of Donald Trump that required Twitter annotations. The lies that Omar Jiminez is a free CNN reporter. The lies of phonies like Jonathan Goldstein. (May 30, 2020, 16 minutes and 1 second)
7. The Strange Pre-Pandemic Truth of Love Island: In which your intrepid rambler finds himself surprisingly addicted to Love Island and learns about pre-pandemic failings in human connection that we were in denial about, with some asides about dating, crossword puzzle magazines, loyalty, and guilty pleasures. (May 23, 2020, 22 minutes and 33 seconds)
6. Emotional Authenticity and Fucking Facebook Avatars: In our latest episode, Ed Champion bemoans the plague of emotional inauthenticity that has become an increasingly common part of pandemic life, rails against Facebook avatars, remarks upon his own days of occasional paralysis, and commends the emotional truth of Marc Maron's moving and heartbreaking tribute to Lynn Shelton. (May 18, 2020, 9 minutes and 44 seconds)
5. Uppity Little Children: In our latest episode, Ed Champion answers the first batches of listener mail, reacts to the news from Germany that the infection rate is up after lockdown restrictions, and riffs on capitalism, smug politicians, CO2 emissions, Bananarama, the Broadway shutdown extending into Labor Day, the grim future of the job market, the Liberate protesters, and the importance of trusting people. (May 12, 2020, 8 minutes and 34 seconds)
4. The Slimy Hubris of Rand Paul: This episode is in response to Senator Rand Paul falsely claiming to Dr. Anthony Fauci that COVID was mostly a New England problem. (May 12, 2020, 6 minutes and 17 seconds)
3. The Violent Jeff Goldblum Fantasy: In our third episode, Ed Champion speculates on why violent videos — particularly videos with stylized moves — have been all the rage on the Interwebs as we are all holed up at home. It started with a drop kick at the Cumberland Mall last week. And it continued this morning with a video of a Jeff Goldbum lookalike delivering a roundhouse kickin a street brawl. (May 12, 2020, 12 minutes and 16 seconds)
2. The Strength of Being Kind, The Myth of Being Nice: In our second episode, Ed Champion discusses the difference between being kind and being nice, why honesty is a far more important pathway to empathy and compassion and connection, combating artifice, seeing the beauty in people even when they are difficult, pandemic breakups, illusory paradise, leaving Brooklyn for a month, the importance of social routines, a roti stand guy in the neighborhood who disappeared, how patience leads to mutual patience, the difference between true neighborhoods and false communities, how people who made vital and nearly invisible contributions to a neighborhood have disappeared, accepting people for who they are, filter bubbles, Trump's racist attack on reporter Weijia Jiang, why Trump is less symptomatic of the radical right and more symptomatic of America, how social media obliterated the practice of critical thinking, performing karaoke, why the word "community" is problematic, Orwell's "Politics and the English Language," having friends on all sides of the political spectrum, the novelist John P. Marquand and his approach to satire and changing his mind, Millicent Bell, taking the core classes at UCB, Little Richard as a true innovator, punk rock, and the importance of cultivating innovators. (May 12, 2020, 20 minutes and 4 seconds)
1. Media Proof: In this premiere episode, Ed Champion discusses hope, how being part of something bigger on a quotidian basis is lost, certain sounds that are "media-proof," abandoned social rituals, being an "extrovert alone" type, the uncertain future, the strange new terms of "essential" and "non-essential," how regular people who aren't on the front lines are essential, why physical intimacy isn't going to return immediately even when the pandemic is over, and much else. (May 11, 2020, 11 minutes and 37 seconds)